Date of Birth

February 14th
About Bliss Jericho
Gender:

Female
'ler, 'lee or both:

'lee
Where am I ticklish?:

not sure, but even if it doesn't tickle i always laugh. i love to laugh!
In a Word:

cheerful
Biography:

everything's new so i ask tons of questions all the time. i get myself in trouble with it sometimes! people say i'm too gullible but i like people and want to trust them.
Location:

in the USA
Interests:

singing, poetry, songwriting
Occupation:

not working yet, but i want to write songs professionally someday
take away my quiet tears
take away the pain
run your fingers over me
and make me smile again
touch me where you know Iím weak
but teach me how to trust
take control but cherish me
show me love not lust
loneliness is my jealous friend
chased everyone else away
this roadís been long and Iím so tired
please help me learn to play
- bjj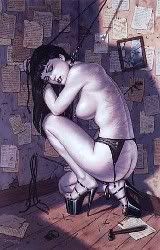 "the poet"
Total Posts
Total Posts

73
Posts Per Day

0.01
Visitor Messages
Total Messages

1
Most Recent Message

02-14-2016

11:45 AM
General Information
Last Activity

05-18-2009

09:38 PM
Join Date

07-12-2007